Joint Supplements Helped My Sports Injury: Case Study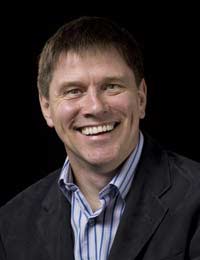 Paul Longhurst has always been incredibly sporty. So it's no surprise that after years of playing sport, he had to undergo a knee operation in 1996.
"I had the operation because I was having problems with various knee injuries due to playing a lot of football and other sports. I was playing squash, badminton, running, doing lots of walking - all sorts really,"says Paul, 47, an independent consultant from north London.
After the operation, Paul was told never to play football again. Understandably he was devastated, so he began to look for another way to get better.
Orthotic Shoe Inserts
"Two years later, in 1998, I saw a chiropodist. She told me my real problem was that one leg was longer than the other and that I had flat feet," he recalls.
"I was given orthotic shoe inserts to stabilise my walk. And just to improve my posture, she also told me to go away and play football some more!"
Paul, who has three sons and a daughter, resumed his sports, and the shoe inserts seemed to work. Then, in 2007, he started playing 11-aside football again, something he hadn't played for the last twelve years.
"I found that when I played on Astroturf my knees were very sore for days afterwards, so sore that it could wake me up in pain," he says. "Someone suggested that I take the supplement glucosamine, which a friend who is is a rugby player had used to good effect following an injury."
Glucosamine for Joints
Glucosamine is a compound found in the human body that produces glycosaminoglycan, a molecule that helps repair cartilage and other tissues. It's made from glucose and an amino acid called glutamine, and is perhaps the most popular joint supplement on the market today.
"I started taking glucosamine and found that it immediately relieved the situation, my knee felt better literally within days. I was instantly able to sleep at night, forgetting about the injury, and playing on Astroturf was easy.
"I knew that glucosamine was supposed to encourage cartilage growth, and some tests indicate that it does that, and that it also reduces the wear and tear around joints, or the effects of the wear and tear.
"Although the results on that are not definitive, it seems to work for some people and not for others. I wasn't sceptical at first, I am always open to trying new things, and I was just lucky that it worked for me.
"I have played a number of games since, it can sometimes be a bit sore but nowhere near that level of soreness, that level of pain, that I had before I began taking it."
Sports, Sports and More Sports
Paul is so happy with the glucosamine that he has upped his level of sporting activity. "Last month, for example, I played five games in nine days, and also had a couple of runs in there, and I feel fine.
"I have a huge bruise because a much younger guy fouled me, and I was too slow to get hold of him, but apart from that I'm fine!!
He is so satisfied, in fact, that he has also started taking an Omega-3 supplement, which is also supposed to benefit joints. "My mum has trouble with arthritis and it helped her. It is also supposed to be quite good for your brain power, although I haven't noticed an improvement there for me!"
You might also like...
Why are you using my name and details in this when I have never given permission for them to be used?
Paul
- 30-Oct-18 @ 8:53 AM