How Rosehip Supplement Helped Me: A Case Study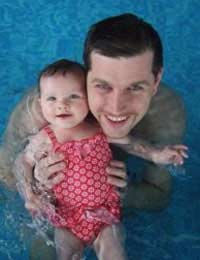 Ciaran Burns, now 27, had been playing basketball since he was about 15, and was even in the Irish Junior team. Then he came to England on a university scholarship and played with a couple of professional teams here.
Everything changed in 2001, however, when Ciaran suffered a serious injury to his cruciate ligament in his knee. "I had surgery and went through an intense physiotherapy program, but kept on playing basketball," says Ciaran, who now lives in Brighton.
"Then, in the summer of 2008, I started to get a lot of achy pains in my knee, and in February, 2009 the pain got so great I had to stop playing basketball."
Diagnosed with Arthritis
Ciaran had surgery on his knee in May, 2009 and was diagnosed with degenerative arthritis. "I found it very painful, even after the surgery, but the surgeon said there was nothing more surgically he could do for me," he recalls.
Things were made even worse following the birth of his daughter, Orla, as the pain of kneeling on the floor to bath his daughter was too much to bear. By this stage, he couldn't take his baby for walks, couldn't climb stairs and had to watch his team play from the bench.
"I started taking high-strength glucosamine, as the surgeon said that would help the arthritis. But I thought to myself, there must be something else!" Ciaran says.
"So I did some research on my own, and found out about LitoZin, a rosehip supplement which a friend's mother was taking for sore knees. I was sceptical, especially as my background is in science, but after five weeks the pain went away completely."
Revolutionised His Life
Ciaran has taken LitoZin regularly ever since, and says the rosehip supplement has revolutionised his life. "There has not been any pain, touch wood, or not as much as before. I have had to stop playing basketball, which is more to do with fact that at the moment I cannot get a professional contract, but I hope to start again next year.
"And I plan to do a triathlon in the spring, so I am now keeping busy running, hiking and swimming to get ready for that. To be honest, before I was taking the supplements I would have found that very painful.
"The rosehip supplement seems to sort of help with whatever was causing the inflammation, and my joints feel almost completely painless as well.
"Also, one of my biggest knee problems before taking the supplement was bending down to give Orla a bath, but now I am pretty good about kneeling and bending."
No More Need for Surgery
Earlier, Ciaran's surgeon told him there was a good chance he'd need a knee replacement before turning 35. Now, that doesn't seem to be the case.
"The rosehip supplement worked within a month, and I will keep on using it as it helps me to maintain things and also manage the pain, if I ever do get any," he says. "It's amazing!"
You might also like...