Herbal Tablet Cured Water Retention: A Case Study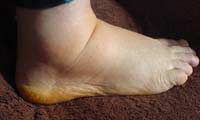 Aimee Gotts from Norfolk suffered from fluid retention almost all her life, and at age 38, she was getting fed up.
"I particularly noticed it when I was travelling long distances or around the time of my period," she says. "However, sometimes I just felt really bloated and had really puffy ankles for no apparent reason."
Aimee says that she often felt that she had put on weight and would beat herself up about it, immediately trying to cut down to lose the excess. Then a friend told her it was probably non-medical fluid retention – something that millions of women in the UK apparently struggle with.
About Oedema
Many people, women in particular but sometimes men, suffer from water retention, which is known as oedema. It can be the result of poor kidney function or heart disease, but is often due to minor problems such as a food intolerance or excess sodium retention.
Women can often suffer from oedema around the time of their menstrual periods, and it can affect legs, ankles and breasts, and also cause puffy eyes and fingers as well as abdominal bloating. Some women notice it when they have been standing for a long period of time.
"When I realised how common it was, it did make me feel a bit better," Aimee admits. "But it was still very annoying that there didn't seem to be anything I could do to prevent it."
The side effects in particular used to make her feel frustrated and unattractive, especially when she wanted to go out on the town and look glamorous.
"Dressing up in a little black dress and strappy sandals with a bloated stomach and swollen ankles isn't a great look," she says.
"Instead of feeling sexy, I'd feel like a balloon and although my mum always advocated the curvier woman by reassuring me 'you never find wrinkles on a balloon', I would still have preferred to ease into my party frock, feeling a little slender around the middle."
Herbal Food Supplement
Many people resort to taking diuretics to sort out fluid retention, but diuretics are not really seen as being a long-term solution to the problem.
For Aimee, things started looking up when a friend recommended Colladeen, a herbal food supplement from Nature's Best, which is high in anthocyanidins.
Anthocyanidins are the nutrients found in dark-skinned fruits, and have been shown to help with fluid retention. In clinical trials it has been shown to help women who suffer from non-medical fluid retention, such as Aimee.
The extracts used in the supplement concentrate these natural plant compounds by up to 500 times their level in the original plant material, which makes it one of the richest natural sources of anthocyanidins available.
In studies undertaken at the University of Reading, women who took a 320 mg tablet of natural anthocyanidins daily for 16 weeks saw a gradual relief of fluid retention symptoms, particularly after the eight-week mark. Women who took a placebo saw no improvement.
Flatter Stomach, Less Puffy Ankles
Aimee started taking the herbal tablet on a daily basis, and within just a few weeks she really noticed the difference.
"My ankles looked much more delicate and at last I had a flatter stomach. The nutritional adviser I spoke to also recommended drinking more water and doing more exercise, which I started doing as well. I now feel a lot better overall.
"Now I very rarely feel bloated and if I do, it is probably just because I have over-eaten!"
You might also like...