Supplements Cured My Acne: Case Study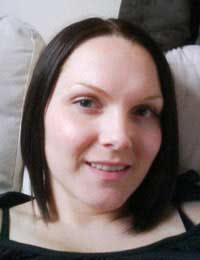 Caroline Knowles knows what it's like to feel self-conscious. She has battled an aggressive form of acne which has affected both her confidence and self-esteem ever since she was 11 years old.
Caroline, now 26, had the debilitating condition for the past 15 years, and reckons she's spent thousands of pounds searching for a lasting solution that would clear her skin of pimples and blemishes– and give her back her self-respect.
"Over the years having problem skin wore down my self-confidence and made me feel unattractive. When you have a visible skin condition, such as acne, its hard to go out and face the world as it feels as though everyone is staring at you," says Caroline, who's from Hinckley in Leicestershire.
"Developing acne at a young age made puberty so much harder and to cope I got used to wearing loads of make-up to improve my confidence. This made me feel slightly better but only aggravated the situation and made my skin even worse.
"Most of my teenage years I had no self-esteem or self-confidence. You feel as though you are tied to the mirror, constantly scrutinising how you look and how you think others will see you. I only managed to get it back in my twenties, when I was also old enough to realise that looks aren't everything."
Hair Fell Out
Psychology student Caroline says she tried everything to get rid of the acne on her skin, including having several expensive cosmetic treatments that failed to take effect. She also went on the drug Roaccutane, which didn't work.
"I've been to the doctors countless times since my problems began and found that it was difficult to be taken seriously at first. Doctors just didn't seem to think that acne was a serious problem and although they prescribed antibiotics and creams none of them seemed to have any effect.
"In the end I was referred to hospital where a consultant told me my only option was to try Roaccutane. It's a powerful drug that is seen as the last step in acne treatment and has to be prescribed by a hospital specialist as its effects can be potentially damaging.
"It turned out that I was one of the unlucky ones and it caused my hair to fall out, which was a huge blow. Waking up with hair covering my pillow each morning was terrifying and I made the decision to stop taking it."
Failed Laser Therapy
In desperation, Caroline tried laser therapy. "Beauty experts on television raved about it, and although it cost more than £1,000 I was willing to give it a try. I was hopeful it would work but it didn't seem to make any difference."
Following that experience, Caroline was desperate to try something that wouldn't have any potential damaging effects. So when she read in a gossip magazine about a spring water that contains the supplement Praventin, a naturally occurring protein derived from milk, she decided to go for it.
"The article said there was a 95 percent success rate in trials, which seemed to be good to be true. I was a bit sceptical but I thought I'd try it anyway, that I'd buy a few bottles of it and see what happened," she recalls.
Inhibits Bacterial Growth
The supplement Praventin works by inhibiting growth of bacteria that cause acne as well as reducing the inflammation of existing blemishes. Each 500ml bottle of Beauty water contains .1g of Praventin as well as aloe vera, known for its soothing properties.
"I began drinking two bottles every day, which was fairly easy as it just replaced my usual plain spring water, and I was quite surprised with the results," Caroline says.
"I had only been drinking it for a couple of weeks when I started to notice a real improvement in my skin. My skin was a lot less greasy, normally by midday I'd feel quite shiny but then I didn't have the shine anymore.
"The larger lumps on my face were the first to get smaller, and they didn't stay on my face as long. They went away a lot quicker. It was like it was flushing out the bacteria.
"Nothing has ever worked this effectively on my skin before. It feels so much cleaner and is almost completely clear, although I still have a few blackheads and the occasional pimple when I have my period.
"I'm happy to be seen without make-up for the first time in years and I really feel like I've got back my confidence. My boyfriend constantly tells me how attractive I am to boost my self-esteem, and I'm sure I must be much easier to be around now I'm not constantly scrutinising my appearance or getting into bad moods during a flare-up."
You might also like...
This is all lies, it is incorrect and photograph is being illegally used! Please remove!