How Can Vitamin B Complex Help My Skin?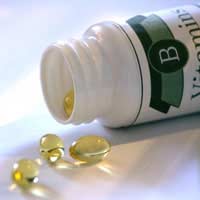 Many people are familiar with the benefits of taking vitamin B to help regulate their moods. But few people know that it can also be beneficial to skin. While B vitamins are important to help us be happy and stress-free, they also are vital in helping us to maintain a healthy skin tone. Without them, we can look sallow and unhealthy, and even suffer severe acne – which is often associated with stress!
Women who want to have healthy skin, hair and nails often take a Vitamin B complex to achieve all this. Many products are on the market which purport to deliver the same amount of vitamin-related benefits, but it's important to read the fine print to determine you are really getting what you want.
The Vitamin B Complex
Eight vitamins are the main components of the Vitamin B complex, and each one has its own role to play in keeping our skin feel healthy and look healthy. All are water-soluble and are stored in the liver. Often they are grouped together as people believe a deficiency in one can signal a deficiency in another. In alphabetical order, they are:
Biotin (Vitamin B7): Helps fatty acids and also instrumental in releasing carbs. Important for healthy hair and skin.
Cobalamin (Vitamin B12): Assists nervous system function, formation of red blood cells.
Folic Acid (Vitamin B9): Enables body to form haemoglobin. Especially important for pregnant women.
Niacinamide (Vitamin B3): Improves circulation. Helps body metabolise fats, carbs and proteins. Deficiency can cause acne.
Pantothenic Acid (Vitamin B5): Vital to help adrenal glands function. Deficiency can cause acne.
Pyridoxine (Vitamin B6): Helps your immune system to function. Deficiency can cause acne.
Riboflavin (Vitamin B2): Maintains mucous membranes in the digestive tract, along with Vitamin A. Vital for healthy skin, hair and nails. Acne is one sign you are deficient in Riboflavin.
Thiamine (Vitamin B1): Helps to rid your body of toxins. Aids digestion. Enhances circulation.
Is the Complex Worth Taking?
Many people take a Vitamin-B complex as a way to safeguard themselves to make sure they look and stay healthy. But most doctors agree that eating a proper diet with a heavy emphasis on fresh fruits and vegetables as well as foods rich in B vitamins will do the same trick.
These days, many foods have Vitamin B added to them, such as fortified cereals and milkshakes. However, Vitamin B is found in eggs, liver, some veggies and yeast. As your mum would say, there's no substitute for a healthy diet - so spread your Marmite thick!
Other ways are also available to ensure your skin is looking its best. Stay hydrated, avoid direct sunlight, wear sunscreen, exfoliate and exercise regularly, maintain a decent cleansing routine making sure you get rid of all traces of make-up, and wear a decent moisturiser that does not irritate the skin. Finally, avoid food and drink that can irritate the skin, such as excess coffee, tea, alcohol and sugar-laden foods, as well as spicy foods. Avoid drugs and smoking as well.
Be aware that it's important to consult with a qualified health professional before taking any health supplements, as they can interact with prescribed medication as well as with other dietary supplements.
Fun Facts
Recently a beer was invented that is designed to relieve some of the guilt suffered by those with huge beer bellies. It's a new beer laced with Vitamin B, and the thought behind it is that drinkers will replace some of the B vitamins they lose by swigging away. So far Filipino brewski inventor Virgilio "Billy" L Malang has yet to become rich.
The Hollywood elite were perhaps the first to start the fad of Vitamin B 12 injections, which they took regularly as a way of keeping forever young. Regular vitamin supplements might be a better idea.
You might also like...
Hi After How Long I Can Take The Vitamin B Complex Again After I Taken Its?
Thando
- 28-Jun-17 @ 10:19 AM