Is Echinacea Safe for Children?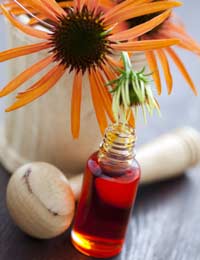 When we come down with a cold, there is never a clear remedy in sight. Starve a cold, feed a fever? Feed a cold, starve a fever? Traditionally, we just sit tight, drink a hot toddy, and wait for the cold to abate.
In recent years, however, some people have started to take Echinacea when they have a cold, not to "cure" it, but to lessen the symptoms or shorten the cold's duration. Some people say this herbal remedy works, others don't. But as it is generally seen as harmless, many people continue to take it, just in case.
But is Echinacea safe to give to children?
What is Echinacea?
Echinacea is a purple daisy found in North America that was originally used by indigenous Indians to treat a variety of ailments. It is thought to be able to stimulate the immune system, which is why it has been seen of benefit when fighting off minor infections.
The roots and plant that grow above ground are either squeezed into a juice or dried and made into a supplement, tea or other type of tincture. Sometimes the plant is used externally, to treat wounds or boils.
Occasionally people experience mild side effects from Echinacea, especially people who are allergic to daisies, although side effects are not usually present when taken by mouth. In trials, tummy upsets and pains were the most common side effect, although when Echinacea was applied externally, some people had rashes or an increased incidence of asthma.
Studies on Echinacea
Last year, scientists at the American College of Physicians conducted a study in which 719 people, aged between 12 and 80, were given either Echinacea tablets or placebos when they began to exhibit the early signs of a cold.
The study found that there was no "statistically significant" difference between people who were given one or the other, when it came to either shortening their cold's duration or improving the symptoms they suffered.
In 16 previous studies, however, nine found that Echinacea purpura did make a difference in reducing the symptoms of a cold, if it was taken early enough.
It could be, however, that the placebo effect played a role in these studies, so the jury is still out. A review of 14 Echinacea studies published in 2007 in the Lancet found that it was of some benefit. More recent studies showed that it did not shorten the length of children's colds, although one study of children who took both Echinacea and propolis, which is a plant resin which bees collect, showed a positive effect.
Echinacea and Children
Most of the studies have concluded that Echinacea is a safe herb, with limited side effects. There has been some growing evidence, however, that it can harm cells in the reproductive system, which could have a specific effect on children.
The studies have not been proven conclusively that children who have not hit puberty could become infertile, but there is also no evidence to say they could not. In particular, the studies suggest that sperm cells could be targeted, but as pre-pubescent boys have yet to produce sperm yet, this may not be pertinent to them.
As a rule, health professionals recommend discussing the pros and cons of taking any herbal remedy or supplement with your doctor first. Many people are not aware, for example, that some supplements can interfere with each other, and also with prescribed medications.
If in doubt whether or not your child should be taking Echinacea, consult with your GP. You might find that the potential risks outweigh the cons, and that getting a box of tissues and some paracetamol handy when your child comes down with the sniffles is a preferable course to take.
You might also like...