What are Sports Supplements?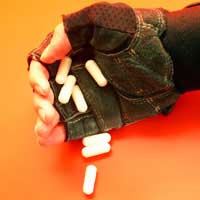 Even if you're not an Olympic athlete, you may sometimes dream of a little help to benefit your sports performance. Many people think that sports supplements could be the answer, providing that extra something to add to the hard work they've already done. But do they work? And are they safe?
What are Sports Supplements?
Sports supplements are also called ergogenic acids, and they are products we take to benefit or enhance our sports performance. In bodybuilding sports supplements are used to bulk up, while other sportsmen - and sportswomen - take supplements to increase energy and/or endurance levels.
Usually available without a prescription, sports supplements can include a variety of substances, including herbs, plants, vitamins, minerals and amino acids. Ergogenic acids include substances that occur naturally and are legal, while some include manufactured and/or naturally occurring illegal or banned substances, including specific drugs.
Additionally, some medicines you can buy either with or without a prescription, including anabolic steroids, are also used to enhance sports performance. They are not considered sports supplements, however, and you should be aware that using any medication for reasons other than what it was originally intended can put your health at risk.
Common Sports Supplements
Androstenedione and DHEA: manufactured version of anabolic steroids. Banned almost everywhere.
B-Vitamins: As supplements designed to improve nutrition, these convert carbs and proteins into energy. Requirements may vary among people who are unusually physically active.
Caffeine: Used to improve endurance with no long-term negative physical effects. In the short-term can cause nausea, tremors, headache etc. High doses are often banned by athletic organisations.
Creatine: Used in power sports or sprinting. Helps fuel short bouts of intense physical activity. Can damage health by causing muscle cramping and increased risk of renal damage.
Ephedrine (Ma Huang): A fat burner that can help with weight loss but is banned by many sports organisations. More than 40 deaths have been documented from ephedrine, with serious side effects including stroke, seizures and psychosis.
Other fat burners: Also known as thermogenics, they work by stimulating the metabolism to help people lose weight. Some contain ephedrine or "ephedrine-free" products, while others have added stimulants such as caffeine, guarana etc. Can be dangerous if used in excess, and are no substitute for a healthy diet and regular exercise.
Glucosamine: Slows cartilage break-down and protects cartilage from effects of exercise. Appears safe but research is not as of yet watertight.
Glutamine: Can boost immune system and help prevent muscle breakdown. Might be unnecessary for those who have a balanced, healthy diet.
Protein sports supplements: Can increase muscle strength to aid bodybuilding, but too much protein can increase risk of certain cancers. Protein sports supplements, while they can contain good nutrition, are not always a good idea if taken in excess, or over a long period of time.
Ribose: Claims to restore energy and improve performance, but research is scanty.
Words of Caution
Sports supplements are no substitute for proper training, diet and exercise. While some may give you a momentary boost of energy, they can be dangerous and, in some cases, even fatal. Your skills in sport depend on a variety of factors, including genetics, your diet, training, how much sleep you get and even your personal will and determination. Miracle aids just don't exist.
Be aware that taking supplements of any kind should only be done under the proper supervision of a medical professional. Some supplements, even herbal ones, can interact with each other and with prescribed medications. And not all supplements are properly regulated, so only purchase them from a reputable supplier and be sure and read the label carefully. Tread carefully!
You might also like...