Can Ephedra-Free Products (Thermogenics) Improve Performance?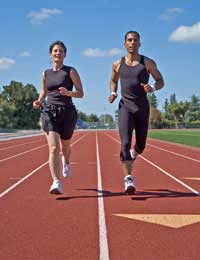 Also known as ma huang, ephedra is a plant that has been used in Chinese medicine for centuries to treat ailments such as asthma and hayfever. In recent years, however, it gained popularity as a sports supplement used to improve physical performance, but was banned in many countries due to a multitude of health problems and even deaths attributed to it.
Now other products that no longer contain ephedra claim to have the same effect to enhance our physical health. Many are used by bodybuilders seeking to burn fat and bulk up, therefore gaining a competitive edge. But do ephedra-free products really work? And, more importantly, are they safe?
Ephedra-Free Products for Sport
Ephedra-free products are used primarily for two reasons: to suppress the appetite and to improve physical performance. They are called thermogenics as they facilitate the process by which we burn fat and/or calories by increasing heat output in the body. They work by substituting ephedrine for synephrine, an active compound found in the Citrus aurantium plant (also called bitter orange). They may also contain caffeine, guarana, willow bark and other supplements for maximum effect.
Products containing ephedra were banned in the USA in 2004 following the death of prominent Orioles pitcher Steve Bechler, who was thought to have been taking ephedrine supplements when he suffered a cardiac arrest and died. The World Doping Agency also bans ephedra in amounts greater than 10 mcg per ml.
Synephrine is very close to ephedrine and pseudo-ephedrine, historically used in a variety of health-related products such as cold medications, weight loss supplements and energy boosters. It acts as a mild stimulant and can increase blood pressure and heart rate but has not been shown in clinical studies to have other effects on weight loss at the same level which ma huang does.
Adverse Effects
While ephedrine was taken off the market in many countries because of its dodgy safety record, there is evidence that ephedra-free products may not be safe either. Several products containing high levels of bitter orange were shown to increase individual's heart levels as much as 18 beats per minute more than normal, while ephedra-free products containing caffeine increased blood pressure by up to 12 percent.
"These findings indicate that ephedra-free dietary supplements could have some of the same adverse health effects associated with previously available ephedra products, such as Metabolife 356 and Ripped Fuel," said Christine Haller, MD, lead author of the study at the University of California at San Francisco.
It is advised that people with high blood-pressure, heart conditions or any other pre-existing condition that could be exacerbated by ephedra-free sports supplements avoid taking them. As with all supplements, always consult a doctor before taking anything, even ones advertised as "nutritional supplements". Names can be misleading, and they can interact with other supplements and/or prescribed medications.
Protect your health by always reading the label and buying only from a reputable supplier. Remember that thermogenics, or nutritional supplements used to help us burn fat, can never substitute for a better diet and exercise. It's sad that ephedra-free supplements, which emerged on the market to replace products containing ephedra, could be equally dangerous to our health.
You might also like...