Are Supplements Necessary When Breastfeeding?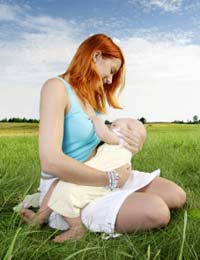 Women who eat a healthy diet probably don't need to take any type of supplements while breastfeeding. But if you are unsure about whether you are getting enough vitamins and minerals, the right supplement won't hurt.
Breastfeeding women should not take too many vitamins, as some vitamins can actually harm your baby when taken in large doses. That's why a women's multivitamin containing 100 per cent of the RDA, or Recommended Daily Allowance, of vitamins is sufficient.
Some deficiencies that a vitamin supplement can make up for when you are breastfeeding are iron and calcium, although you can get those from eating certain foods such as red meat and dairy products.
Most ante-natal vitamins contain the right amount of supplements for breastfeeding women as well. If in doubt, you can certainly continue to take ante-natal vitamins while breastfeeding.
Importance of Vitamin D
The National Childbirth Trust recommends that women who breastfeed take a supplement containing 10 micrograms of Vitamin D per day, so make sure that is included in your daily vitamin.
We mainly get Vitamin D from sunlight, so women who cover up when they go outdoors are considered to be most at risk. Vitamin D is important as a lack of this nutrient has been linked to respiratory problems, several types of cancer and diabetes. It's also vital for bone development.
An American study found that breastfed babies, on the whole, were not getting enough Vitamin D. The study published last year in the journal Paediatrics found that only 5 to 13 per cent of babies who were exclusively breastfed were getting the right amount.
Healthy Snacking for Breastfeeding Mums
If you are concerned that you're still not getting the right amount of vitamins and minerals in your diet, then changing your snacking habits can make a big difference. Keep in mind that while many new mums want to lose weight, starting any diet except for a healthy eating regime is not recommended while breastfeeding.
Here are some snacks that will help your diet become more balanced:
Fruit smoothies. Smoothies can contain a lot of important nutrients mixed together into one delicious shake. Try blending together a ripe banana and half a mango with low-fat milk, a scoop of vanilla ice cream and some ice cubes. Add strawberries or blueberries to vary the taste, or whatever fruit you desire. Tasty and satisfying.
Trail mix. Make your own trail mix with pumpkin seeds, wholegrain cereals, dried fruit, nuts and a handful of chocolate chips. Avoid peanuts if there is a history of nut allergies in your family.
Veggie snacks. Instead of reaching for the biscuit tin, have some chopped prepared vegetables on hand, such as carrot strips, sliced cucumber and peppers. Eat with a dip such as hummus or tzatsiki.
Dried apricots, figs or prunes taste great, give you vitamins you need, and can also help keep your digestive system working the way it should!
Eating right is important for both you and your baby, and while it's important not to go hungry, it's equally important not to fill up on sugary snack foods that have little or no nutrition.
Ideally, a healthy diet that combines low-fat dairy products, lean meat, chicken and oily fish, plenty of fresh fruit and veg and wholegrains is best, combined with six to eight glasses of water per day. Avoiding smoking, too much caffeine and drinking alcohol to excess is also important when breastfeeding.
If you feel you're not getting enough nutrients, or that your diet is lacking, then taking a woman's multi-vitamin supplement daily should do the trick. Please keep in mind that supplements are not necessary for newborns to take themselves, unless recommended by your doctor for a specific health reason.
You might also like...