Why is Vitamin C a Natural Skin Booster?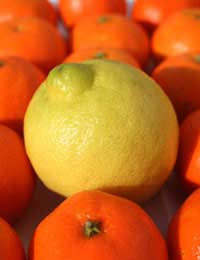 Billions of pounds are spent every year by women intent on making themselves look younger, with skin care being perhaps one of the biggest industries to benefit from female extravagance. While we are always searching for the latest miracle cure, more and more people today are relying on natural remedies to turn back the ageing process. With this in mind, vitamin C is perhaps one of the best-kept secrets to getting softer, more supple and younger-looking skin.
Why Vitamin C?
Most of us think of vitamin C as a natural way to combat flu and colds, and to boost our immune system in general. But did you know it can also help rejuvenate the skin? Known scientifically as ascorbic acid, vitamin C plays a vital role in making our skin look and feel younger.
Vitamin C for Healthy Skin
Vitamin C works as an antioxidant, fighting free radicals that work to make your skin look older. It's also thought that taking vitamin supplements containing the right amount of ascorbic acid, if you don't get enough in your diet, will boost your body's natural defence system, including the skin.
Highly important in the production of collagen, vitamin C can help strengthen your skin, helping it to sag less and appear younger. Collagen gives the skin its elasticity and resiliency, and without it we tend to droop.
Using facial creams, lotions and potions that contain vitamin C directly on our skin can help it stay looking young and fresh. And wrinkles are much less apparent in skin that is supple and full of moisture. Be aware that it can be hard for your skin to absorb the right amount of vitamin C unless the cream contains other chemical agents as well.
Ask your GP or a qualified skin care specialist for advice on how to get healthy skin with the help of vitamin C, and which creams he or she would recommend. Remember that in order for vitamin C to be absorbed properly, the cream will need to have a low pH content and a high ascorbic acid content, which not all vitamin C-enriched creams have.
Foods Rich in Vitamin C
Vitamin supplements are not necessary for those with a healthy diet, although some people swear that an extra top-up makes them look and feel better. In fact, recently a study showed that people who ate vitamin C-rich foods had fewer wrinkles than those who didn't, as opposed to people who relied on vitamin supplements.
If you want healthy skin that looks younger, here are the main foods that contain a high level of vitamin C:
Citrus juices and fruits, such as oranges, lemons, limes and grapefruits
Cantaloupe, kiwi and strawberries
Spinach, cabbage, green pepper, Brussels sprouts and broccoli
Vitamin C Supplements
If you want to buy a vitamin C supplement to enrich your daily routine, ask your GP whether you can take a multi-vitamin, or whether you should take the vitamin supplement on its own. Smokers require more vitamin C than those who don't smoke, and women who take oestrogen contraceptives or frequent aspirin users may deplete their supply as well. People on blood-thinning medications should be aware that vitamin C may affect it. Too much vitamin C can cause people to become deficient in vitamin B12. Always ask your doctor before taking any supplements.
You might also like...