What are Natural Mood Enhancers?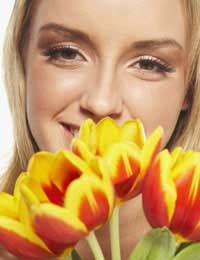 Feeling blue? While antidepressants are a good solution for some people, others want to try and stabilise their moods naturally, without resorting to addictive or pharmaceutical solutions. Natural mood enhancers, or herbal remedies that can help boost serotonin and other "feel-good" chemicals in the brain, have been shown to be of tremendous help in alleviating stress and anxiety, and making people feel calmer and more relaxed.
With complementary and alternative medicine becoming more and more popular, keeping stress at bay the natural way has become an option for many. That's why nutritional supplements which can help stabilise moods and lift depression have fast become a logical choice for people with mild depression, or who need a little extra help in times of stress.
Types of Natural Mood Enhancers
What may work for some people may not work for you, so often it's a case of trial and error to find the right nutritional supplements for you. The most popular are:
St John's Wort: known also as herbal prozac, nutritional supplements containing St John's Wort, or hypericum, are considered the most effective herbal remedy for depression. It comes as either a liquid extract, tablet or capsule, and can also be bought as an aromatic tea. It may have better effect when taken as a tea or tincture as pills contain mainly the ingredient hypericin, instead of many substances found in the plant itself.
Although it's not entirely clear how St John's wort works, scientists believe some chemicals contained in the herb can alter chemicals in the brain known as neurotransmitters. These include serotonin, dopamine and noradrenaline, and upsetting the balance of these neurotransmitters can contribute to depression.
5-HTP: This amino acid acts as a precursor to serotonin. Derived from natural plant sources, it can help with mild to moderate fluctuations in mood that can lead to depression and help you feel more calm and relaxed, with better overall health.
Vitamin C: Known to help boost the immune system, which can help the body – and thus the mind – fight off stress better by helping to keep the central nervous system functioning well.
Vitamin B Complex: Gives you renewed energy levels when you are feeling tired or depressed due to stress. Works by supporting healthy balance of the brain's neurotransmitters.
Rhodiola Rosea: Known as an adaptogen, which helps us adapt to stress be it chemical, physical or biological. It can help people deal better with mood changes and helps to promote better neurological functions and improve overall mental health.
Winter Cherry: Another adaptogen that helps the body respond to and deal with stress more productively.
Natural mood enhancers can be a successful way to navigate through life's ups and downs. As these nutritional supplements are non habit-forming, they can be used to help many people get over a particularly rough patch or very stressful time in their life. Regular exercise, healthy eating and lifestyle changes are also effective ways to alleviate depression and put you in a better mood - hopefully long-term.
Please note that if you suffer from severe or debilitating depression, you should consult a medical professional for help. As with all nutritional supplements, including herbal ones, consult your doctor before taking as they can interact with other supplements and with prescription medication.
You might also like...