What is St John's Wort?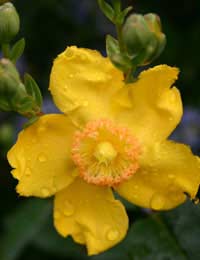 Even people who are sceptical of herbal remedies are starting to believe in the power of St John's wort to treat mild to moderate depression. Studies have shown that this inexpensive herb may be a natural way to chase away the blues, but medical reports have also shown that it can interact with other medicines, causing the body to absorb them too quickly and potentially causing dangerous effects. That's why it's so important to only take this herbal supplement - and all herbal supplements - under medical supervision.
Herbal History
St John's wort (hypericum) is considered the most effective herbal remedy for depression by a huge number of people. Known as the herbal Prozac, in many tests it has been shown to be more effective than a placebo, and equally effective as several prescribed antidepressants with fewer side effects.
St John's wort comes in a variety of supplements, and can be bought as a liquid extract, tablet or capsule, and can also be ingested as an aromatic tea. Some herbalists believe it is better as a tea or tincture as pills contain mainly the ingredient hypericin, instead of a host of many substances found in the plant itself.
It is not entirely clear how St John's wort works, but scientists believe that some chemicals contained in the herb can alter chemicals in the brain known as neurotransmitters. These chemicals can include serotonin, dopamine and noradrenaline. It's believed that upsetting the balance of these neurotransmitters causes depression.
St John's wort supplements can take anywhere from two to four weeks to have effect, so don't expect a miracle cure overnight. Like prescription antidepressants, it is thought that easing some of the symptoms of depression may help people cope better with the problems they face in life, be it bereavement, divorce, loneliness, work upsets or plain general malaise and discontent. But oral remedies alone, be they prescription or herbal, are not always enough to bring about life changes.
Severe (Major) Depression
St John's wort has not been shown to be effective in people with severe depression. If you feel you fall into that category, seek a doctor for advice and don't rely purely on herbal remedies to get better. Signs of depression, according to international authorities on the subject, can include:
Feelings of sadness, emptiness and despair, hopelessness, guilt, worthlessness
Insomnia, early-morning wakefulness, sleeping too much
Irritability, mood swings, stress and tension
Fatigue, lack of energy, decreased libido
Difficulty concentrating or remembering things
Persistent aches and pains etc for no apparent medical reason
Difficulty concentrating, remembering details etc
St John's Wort for Other Ailments
Supplements of St John's wort have also been known to have some promise in treating other complaints, some of which are linked to or related to depression. They include alcoholism, pre-menstrual tension, Seasonal Affective Disorder, HIV/Aids, ear pain stemming from an ear infection, viral encephalitis, haemorrhoids, and minor burns and wounds. The latter ailments are treated by topical application of this herbal supplement, which is thought to have success in reducing both pain and inflammation.
Side Effects
Some side effects have been reported with people taking St John's wort such as dry mouth, fatigue, dizziness, nausea and others. More worrying is that can interfere with prescribed medications such as antidepressants, contraceptives and blood-thinning medicines, among others, so always consult a doctor before taking it or any herbal supplement.
In fact, the Medicines Control Agency has issued a warning, telling people on an extended list of drugs to stop talking St John's wort until they talked to their GP about its implications for them. They caution people to remember that just because something is advertised as "herbal" and "natural" does not mean it is safe. This is true of all herbal supplements.
You might also like...