What is 5-HTP, and Can It Help Stabilise Moods?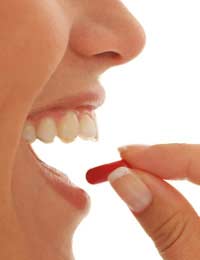 Everyone experiences stress from time to time, and sometimes we need something to help make our moods a little bit lighter. As more and more people turn to natural remedies to help lift mild depression instead of relying on possibly addictive pharmaceutical ones, more and more nutritional supplements are beginning to make names for themselves. One of these is 5-HTP, a natural mood enhancer.
What is 5-HTP?
A natural precursor to serotonin, or the "feel-good" chemical in our brain, 5-HTP actually stands for 5-Hydroxytryptophan. The body makes 5-HTP from tryptophan, an amino acid that occurs naturally in our bodies. It then converts it into serotonin, high levels of which can help us get better sleep, feel in a better mood and even improve our levels of energy as well as our sexual performance.
5-HTP is manufactured from the seeds of the Griffonia simplicifolia tree, indigenous to Africa. Only minute amounts are contained in food, including turnips, turkey and sunflower seeds. 5-HTP is now often marketed as a cure for depression and insomnia, and as an appetite suppressor. It has been shown to be as helpful in treating mild to moderate depression as certain antidepressant prescribed drugs, and with none of the side effects.
Other Uses for 5-HTP
5-HTP is used to treat fibromyalgia, a condition which is characterised by chronic pain. Many people who take it report that they sleep better, have less pain and less depression.
It has been shown in scientific trials to be effective in treating children who suffer from night terrors. In fact, it's reported that 83.9 percent of children who used it for six months or more were cured.
People with chronic headaches have found that they lessened after treatment with 5-HTP. It is assumed this is the case as migraines often occur when serotonin levels in the body are low.
Some trials have shown that people fighting obesity have had success when taking supplements of 5-HTP as it contributes to a feeling of fullness. There is also evidence that low levels of the amino acid tryptophan may contribute to people becoming obese as it leads to excess intake of both carbohydrates and fat.
Warning
Tryptophan supplements were removed from the US market in 1989 after a contaminated batch was discovered which caused EMS, or eosinophilic myalgia syndrome, a potentially fatal condition (at least 27 people died as a result of the outbreak). Investigations concluded that the Japanese company manufacturing the tainted batch had used an untested manufacturing process that eventually proved to be unsafe.
Be sure that all nutritional supplements of 5-HTP you purchase come from reputable manufacturers and suppliers, and always consult your doctor before taking any supplements whatsoever. 5-HTP in particular can interfere with several other medications, so be safe rather than sorry. Do not take 5-HTP if you are pregnant or suffering from cardiovascular disease, liver disease, cancer, anorexia nervosa, sickle cell anaemia, HIV or AIDS, haemophilia, myalgia, peripheral neuropathy, Parkinsons, lung or auto-immune diseases, or if you are elderly. It can also be dangerous for people with oedema, rashes, nausea or diarrhoea, or those on a low-protein diet.
You might also like...
I absolutely swear by 5-HTP having taken it for several years. It has definitely helped my serotonin levels, which are chronically low if I don't supplement with 5-HTP. I actually use 5-HTP patches, which are perfect for me. Not sure I agree that these help with sexual performance (!), but mood and energy levels definitely yes. Useful article.
Dxjlondon
- 8-Jul-14 @ 2:47 PM