Can Caffeine Improve Sports Performance?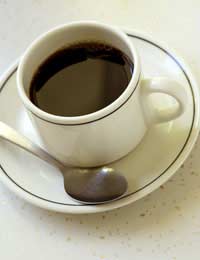 Many of us cannot function well in the mornings without that essential cup of coffee. Now it has been proven that caffeine helps us stay alert and helps top up our energy levels. But can it help improve our sports performance as well?
Why Caffeine?
Caffeine is one of the best researched stimulants in the world, and all research points to the fact that if used in moderation, it has no adverse effects on the human body. Caffeine is classified as a drug because it stimulates the central nervous system, and can be natural or produced artificially.
In sport, caffeine is often used a way for endurance athletes to improve their endurance levels, and is also benefits short-term high-intensity exercise and mental alertness. Caffeine achieves this by blocking proteins called adenosine receptors. Normally the receptors bind to adenosine, causing a natural feeling of sedation and producing a lowered heart rate. But caffeine allows a stimulatory neurotransmitter called dopamine to have more influence than the calming adenosine, making us feel revved up and ready to exercise.
Where We Get Caffeine
This natural stimulant, sourced from the leaves, nuts and seeds of more than 60 plants, is present in a number of everyday food items such as coffee, tea, chocolate, cocoa and most cola beverages, where it is used as a flavouring agent. It is estimated that about 80 percent of the world's population are habitual caffeine users.
As well as drinking coffee and tea, athletes get access to caffeine by taking various supplements, such as caffeine-enhanced sports beverages, caffeinated pills or caffeinated gels. In its natural form it tastes quite bitter, so caffeine normally undergoes a certain amount of processing to get the flavour right.
Until 2004, professional athletes were banned from using caffeine by the World Anti-Doping Agency, although this has been overturned. In the past, some Olympic medallists were stripped of their medals for using caffeine.
Benefits of Caffeine Supplements for Sports Performance
Caffeine acts as a stimulus to the central nervous system
Serves to increase alertness
Delays tiredness and other signs of fatigue, stimulating the brain and helping us to think more clearly
Raises levels of epinephrene, or adrenaline, therefore helping us to exercise more and improve our fitness
Can spare muscle glycogen, which is glucose stored mainly in the muscles
A 300-500 mg cup of coffee one hour before exercising has been shown to improve endurance and thus help fitness levels. While the peak is one hour after ingestion, caffeine has been shown to work for an extra two hours without the need for further supplementation
Drawbacks of Caffeine for Sports Performance
Excess caffeine can cause nausea, tremor, palpitations, nervousness and headache
Caffeine arguably acts as diuretic, so increased fluid intake is mandatory for good performance, especially high-intensity or prolonged exercise
Can interact with ephedrine and increase its side effects, so do not take in tandem with each other
Some people are very sensitive to the effects of caffeine, and should not take caffeine supplements of any kind if this is the case. Pregnant women should limit their daily intake of caffeine
Stopping taking caffeine after regular use can result in withdrawal and accompanying headaches and fatigue
While you may not be aware of it as you down your daily espresso or cappucino, caffeine is still a drug that needs to be taken sensibly in moderation. If you decide to take special sports supplements containing caffeine to improve your sports peformance, endurance or energy levels, ask your doctor first. And if you drink a lot of coffee - more than three cups a day - you may want to consider gradually cutting down.
You might also like...