What is Coltsfoot, And Does it Help Respiratory Ailments?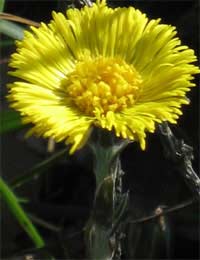 Sometimes referred to as Foal's Foot, Ass's Foot or Coughwort, Coltsfoot is a herbal medicine that has been used for centuries to treat respiratory ailments. Despite its odd-sounding names, it has a deserved reputation for helping provide intense respiratory support with related problems such as asthma, coughs and even bronchitis. It used to be so popular that in France, for example, apothecaries advertised their presence with a painting of Coltsfoot on the front doors of their shops.
All About Coltsfoot
Coltsfoot grows in abundance in England, where it is often found in wet and dry areas alike. An old name for this useful plant was Filius ante patrem, which literally means "the son before the father". That's because the star-shaped golden-coloured flowers appear before the leaves.
Flowers, roots and leave of this herb are all used for medicinal effect, whether used in its pure form or as supplements. In the past, dried leaves were ground up and smoked to relieve asthma. These days, you can either purchase an extract or the dry leaves themselves, if you don't want to go out and pick it, which most people drink as an infusion after pouring boiling water over it and steeping for 5-20 minutes.
Traditional Uses for Coltsfoot
Because of its soothing, expectorant effect combined with anti-spasmodic qualities, Coltsfoot has been shown to provide good respiratory support. It is effective for coughs – often mixed with licorice, black cherry or thyme - bronchitis and sore throat, and has also shown benefits in treating flu and symptoms related to flu. This is partly because it contains a substance called mucilage, which is very effective in coating and soothing the throat. Some people even use it as a method to help treat asthma and emphysema.
Coltsfoot has been used to treat cystitis as it is a mild diuretic.
The fresh leaves of the plant have been used to treat boils, ulcers and abscesses. Like many herbal supplements, it is also available in liquid or capsule form from many health food shops.
Coltsfoot has also been applied to skin to treat insect bites and mild skin infections, as well as eczema.
In the past, dried Coltsfoot leaves have been smoked as an alternative to tobacco.
Sometimes the herb is boiled down and taken in concentrated amounts to induce excess sweating.
Side Effects
Coltsfoot herbal supplements should not be given to women who re pregnant, breastfeeding or planning to get pregnant. It should not be used for more than six weeks at a time, or given to children under age six. Larger doses can cause problems if you are taking heart or high blood pressure medicine. Some people will experience headache, nausea, vomiting or increased blood pressure. If you experience hives, itching or chest pain and/or breathing problems, you may have an allergy to Coltsfoot. Discontinue use immediately and consult your doctor.
A Word of Caution
In New Zealand and Australia Coltsfoot supplements were found to cause liver damage in rats, so its use is restricted. A Swedish study showed that the cancerous properties are destroyed when boiled. In any case, only use Coltsfoot supplements under the advice of a physician, and people with any history of alcoholism or liver disease should avoid it completely. As with any supplements, Coltsfoot can interfere with medication, even herbal medicines, so ask your GP before taking it.
You might also like...