What Are the Pros and Cons of Supplement Use?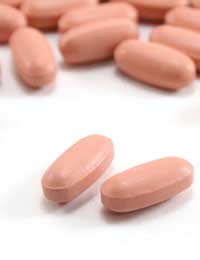 Taking nutritional supplements has its pros and cons, but the important thing to remember is that they are not a substitute for a healthy and well-balanced diet. In fact, whether we need to take them at all is a widely discussed issue, both amongst health professionals and the general public at large. Studies on the safety and efficacy of health supplements have proved largely inconclusive, making it even harder to decide whether or not vitamin supplements, herbal supplements or supplements of any kind are really worth taking.
Being aware of both the pros and cons of supplement use is important when considering taking anything more potent than a multi-vitamin tablet. Don't be fooled by the advertising or the small print, and make sure that taking supplements will actually do you more good than harm.
Which Ones to Take?
The Food Standards Agency has determined that bulk of daily multi-vitamins and minerals are safe to take. But one of the greatest concerns is purchasing ones that are of the highest quality, and determining what ingredients they actually contain. In this case, going with a named brand with a supplement purchased from a well-known outlet is your best option, as the quality of the ingredients can vary greatly, even with the same named product. Also, always inform your GP what supplements you are taking, as they can interfere with either each other and/or prescribed medication. Taking too many can also have wide-reaching negative consequences.
While multi-vitamins may be the safest, the other most popular individual supplements on the market today are vitamins A and C. In the past it was thought they could prevent maladies such as cancer, but that has not been the case. In fact, vitamin A can actually increase the risk of heart attacks, while studies of vitamin C has shown it has virtually no health benefits at all, apart from the placebo effect some people get whilst taking it to ward off potential colds and boost their immune system.
Some supplements do have widely-recognised benefits, however. Calcium has been proven to be beneficial for women over age 50 and men over 65, although calcium-rich foods can be a better - and safer - option. Folic acid is good for pregnant women, as it helps reduce the risk of having a child born with spina bifida.
What About Supplements to Make Me Look or Perform Better?
Ingesting supplements to improve your sports or sexual performance or facilitate weight loss is another issue altogether. Every type of supplement, no matter what it is designed to do, comes with its own special issues. For example, weightlifters who take excess protein supplements may bulk up in the short term but eventually suffer kidney problems, while androstenedione, a male sex hormone, can lead to increased muscle size, energy and strength – as well as high blood pressure, liver cancer and testicle and breast shrinkage.
The best rule of thumb is to play it safe. Make sure you discuss all supplements you are considering taking with a qualified health professional first. And don't forget that in some respects, there is not great difference between a nutritional supplement and a drug, as both can have ill effects if taken incorrectly. In fact, some supplements may be downright dangerous in themselves.
But Aren't All Dangerous Supplements Unavailable?
Not entirely. Kava, for example, is still taken for anxiety and insomnia, although it has been linked to liver damage. And while aristolochia acid, present in many Chinese herbs, has been banned for having links with kidney failure, some products sold online still contain it as an ingredient. Other seemingly innocuous herbal supplements can lead to diseases if used for a long time, or in very large doses. Did you know that ginger can make bleeding disorders worse?
When Is it Safe to Take Supplements?
Generally, these guidelines are good ones to follow. Take a supplement only:
If approved by your health professional first, who has a complete history of your medical background and other supplements/prescribed drugs you may be taking;
If not used as a substitute for a healthy diet;
If taken correctly, at the right time, with or without food as directed;
If taken to make up for a recognised diet deficiency, such as people who follow a vegetarian or vegan diet would have, or children who are not exposed to enough sunshine and are deficient in vitamin D;
If taken under a doctor's supervision when pregnant (i.e., folic acid).
Supplements can be helpful additions to one's regular diet, if taken correctly and under the proper supervision of a medical professional. Only you can make the right choice to take supplements that are expressly designed for someone of your age, lifestyle, and special health needs. Make sure you do enough research to get it right.
You might also like...