What Are the Benefits of Retinol for Skin?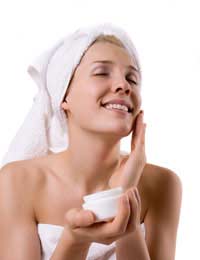 Our bodies are amazing. They are able to convert beta-carotene, found in many fruits, vegetables and other foods, into the vitamin A we desperately need primarily for bone strength and good vision. Retinol is a derivative of vitamin A, and as such has a very high success rate when used for acne and other skin complaints. In fact, retinol is instrumental in helping keep the skin healthy, soft and supple.
What is Retinol?
Retinol is thought to stimulate collagen production. It helps with skin care by repairing the skin's lower layers, making the skin appear softer and feel noticeably smoother, as well making wrinkles look less noticeable.
Retinol works thanks to something called Retinoic Acid Receptors, which are found on the skin's outer membranes of cells. They help cells to reproduce and function properly. These make retinol an ideal substance to treat both acne and skin that is damaged by too much sun, or showing increased signs of ageing.
Retinol for Acne
We are always looking for ways to improve our daily skin care regimens, and if you have acne, either moderate or severe, then retinol may help. Used as a topical cream, retinol is especially helpful for people with acne, as the increased cell turnover makes acne scars fade and can also help unclog pores.
Basically, retinol works as an acne treatment by modifying the layer of skin near hair follicles, which get filled with pus-filled pimples or spots in tandem with an increase in superficial cells of the skin. Retinol is actually able to detach these cells, making them shed away from the hair follicles. Once they are shed they empty out, producing fewer spots and clearing out the skin, leaving it fresh and clean.
Studies of Retinol on Ageing Skin
In the US Archives of Dermatology, researchers at the University of Michigan wrote about a study they conducted on 36 volunteers aged 80 or over. They were given either a moisturiser with added retinol, or a plain (placebo) moisturiser, to use for six months. They were told to apply it on the inside of their upper arm, an area not likely to be damaged by the sun.
Those who used the moisturiser with added retinol had significant reduction in the appearance of wrinkles in the area, although this eventually faded when they stopped using the retinol. The others saw no reduction.
Tretinoin, known commercially as Retin-A, is available on prescription and works well for sun-damaged skin. Studies have shown that it is helpful in reducing the appearance of wrinkles, fine lines and liver spots, and also helps make rough skin feel smoother. These days, creams containing retinol may be as effective as Retin-A, but be aware that many over-the-counter products containing retinol may be unregulated, so get yours only on the advice of your GP or dermatologist. In fact, it was discovered that some contained not enough retinol to be effective, and others contained no retinol at all!
Retinol Supplements
Many people take retinol supplements in the form of vitamin A in either liquid, tablet or capsule form. While vitamin A is important in maintaining healthy skin, it is also seen as a natural antioxidant and way to strengthen your immune system. However, you can avoid supplements by getting enough vitamin A in your daily diet, with vitamin-A enriched foods such as eggs, liver, butter, mango, cantaloupe, red pepper, carrot, kale, sweet potato, tomatoes and butternut squash.
Side Effects of Retinol
Retinol has side effects for most people, which can include stinging upon application, a warm, red face, itching and excessive skin flaking. This usually disappears in time, but some people find the irritation too much to handle. Avoiding over-exposure to the sun is mandatory after application, as is wearing proper sunscreen.
Consult your doctor before taking retinol. Pregnant women should only use it on the advice of a dermatologist as an excess of vitamin A has been shown to cause birth defects. People who use products containing retinol may have to discontinue use prior to having surgery.
You might also like...
Hi, Need to ask if primrose oil can be applied directly on the skin having eczema. thanks.
saba
- 8-Aug-12 @ 3:26 PM