How Should I Take Supplements?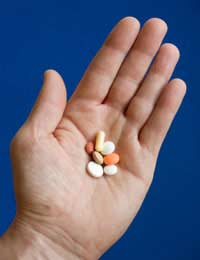 Supplements need to be taken properly for a variety of reasons. Failure to do so will, at best, result in them being flushed through your body without being properly absorbed. At worst, if you take them with other supplements without checking with a medical professional first, you run the risk of doing your body – and your overall health - actual harm.
Guidelines to Follow
Follow these guidelines to make sure you are getting optimum results from taking supplements:
Take all supplements at room temperature. Sometimes their efficacy can be damaged if you swallow them with a hot liquid, such as coffee or tea, while taking them with chilled drinks can cause damage as well.
To avoid interference with nutrient absorption, do not drink coffee or tea for 15 minutes before or after you swallow a supplement.
Read the labels on the bottle religiously, and follow all instructions to the letter.
Check with a medical professional before taking supplements with other supplements, whether they are vitamin supplements, herbal supplements or other kinds of tablets. Not doing so can reduce their efficacy or even be dangerous.
Remember that supplements are not intended to replace prescribed medication, and that doing so can be dangerous. They are not designed to cure, heal or stop specific ailments, but simply to boost overall well-being.
With or Without Meals?
Most supplements work best when taken with food, as when your body is stimulated by the presence of food it's in the best shape to absorb them. However, this is not the case with all supplements, so make sure you read the label carefully. Ones that are fat-soluble work best when eaten with a meal that includes fat; water-soluble ones pass through the system the quickest so it's advised to take them several times a day. As some interfere with the absorption of others, again, read the label carefully and consult with a medical professional about when is the optimum time to take them.
Calcium and Magnesium: 30 minutes before bedtime
Multiformula Vitamins: Best taken with small amounts of food
Time-release: With primary meal of the day
Vitamins A, D, E: with food containing oil or fat
Vitamin B-Complex: In morning or with food containing whole grains
How Do I Know I'm Buying The Right Ones?
Brands of dietary supplements all fluctuate, and it's up to you to choose the one that's right for you and your needs. If necessary, you can contact the manufacturer directly and direct your questions to them. The Office of Dietary Supplements recommends asking the following:
What information does the firm have to substantiate the claims made for the product? Be aware that sometimes firms supply so-called "proof" of their claims by citing undocumented reports from satisfied consumers, or graphs and charts that could be mistaken for well conducted scientific research.
Does the firm have information to share about tests it has conducted on the safety or efficacy of the ingredients in the product?
Does the firm follow good manufacturing practices and have a quality control system in place to determine if the product actually contains what is stated on the label and is free of contaminants?
Has the firm received any adverse events reports from consumers using their products?
All in all, supplements can have good effect – or at least no adverse effects – if taken properly, not in conjunction with other supplements that can interfere with them, and when they are stored correctly. Good luck!
You might also like...