How Can Zinc Soothe Breathing?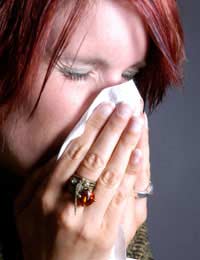 Zinc is normally thought of as a natural herbal supplement that is used to help minimise the duration of a common cold and related symptoms such as cough, breathing problems and sore throat. A mineral that occurs naturally, zinc is important for human growth and the development of tissues in the body. Some people say it can also help cure the winter blues, and can even help you to see better and function better sexually!
Why Zinc for Breathing?
Acute bronchitis often comes at the end of a cold or flu. Your body has been fighting to get rid of these infections, and as a result your bronchial tubes are irritated and inflamed. This irritation makes things worse, as it harms the tiny hairs on your bronchial tubes which help sweep mucous out of your respiratory tract. As a result, your body must resort to coughing, with adjacent impaired breathing, to try and clear these tubes.
Sometimes bronchial coughing helps to bring up mucous, and sometimes it doesn't. To make the coughing ease and get rid of the condition quicker, many blended herbal remedies are recommended. The best contain zinc. While long-term use can result in zinc suppressing the immune system, over a short period of time it is reported to be very effective, although some claims have been questioned.
Studies have shown throat lozenges made from that zinc gluconate are helpful in treating colds. As it can have a bitter taste, it can also be mixed with herbs such as elderberry and lemon, to taste better and soothe more. Companies that produce zinc lozenges claim they can reduce the duration of a cold by up to 42 percent. But for it to work effectively, treatment must begin as soon as possible after initial symptoms appear.
Side Effects
Zinc supplements are known to be relatively safe if not taken long-term. But in 2003 an American company producing zinc supplements was successfully sued for $12 million pounds after 340 people complained that the product made them lose their senses of smell and taste. The company countered that this could be a natural consequence of the common cold.
Taking zinc with food can decrease the risk of tummy upset, as is the case with many vitamins and supplements. Foods that contain calcium or phosphorous may interfere with your body's absorption of zinc, and it may affect certain antibiotics.
Before taking any health supplements which contain zinc gluconate, tell your doctor. These supplements can interfere with prescribed medications and occasionally with other herbal supplements. Also, talk with you doctor first if you are pregnant, trying to become pregnant or breastfeeding. Multi-vitamins that contain smaller quantities of zinc are usually okay, but if in doubt, consult your doctor.
Fun Fact
The food that is richest in zinc is the humble oyster, which may be why some people believe oysters to be a natural aphrodisiac. Other foods rich in zinc include red meat, poultry, beans and nuts..
Zinc health supplements are known as a safe herbal over-the-counter remedy that can help with colds to soothe sore throats, breathing and cough. Many people like to try zinc when they feel the onset of a cold or flu to reduce the need for prescription medicine. It certainly might be worth a try.
You might also like...